"I sent in some really ragged-out Birkenstock leather clogs that I had considered trashing. But I thought I would give these guys a shot, and whoa! what I got back in the mail was a brand new pair of Birks! My wife and I were both floored!" – Skadi B.

BIRKENSTOCK Repair Shop
Sandal Renewal & Resoling
The tradition of Birkenstock craftsmanship began over 225 years ago, and today the comfort and quality of our footwear is legendary. One of the keys to our success is repairability. From the ground up, Birkenstock footwear is designed to be durable and completely renewable.
NuShoe, Inc. is an authorized Birkenstock Repair Center, utilizing only original Birkenstock materials, and guarantees 100% customer satisfaction. Our Birkenstock Repair Center replace all components with original Birkenstock soles, insoles, and laces to rebuild your favorite shoes to "like new" condition. Allow 3-4 weeks for return delivery.
BIRKENSTOCK Sandal Repair & Renewal options include the following: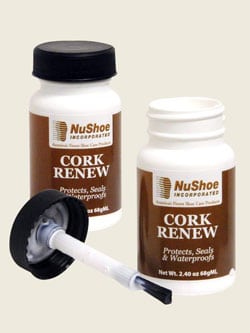 Sandal Care Accessories
We have a full range of shoe care products that will extend the life of your favorite Birkenstock sandals.



"It was with some trepidation that I sent you my favorite sandals. They were completely worn out and I wasn't sure you could save them. But I figured it was worth a try – we'd been around the world together and I had a lot of mileage on those old favorites. I was overwhelmed when I got them back – they are as good a new! A miracle! My next pair is in the mail and I am excited to see what you can do with them. Thank you for being such good craftsmen. It is an art form." – Karin W.


"I actually live overseas but send in one pair of my Birkenstock sandals each year when I am back in the U.S. and I pick up the ones that I had repaired the year before. I have been doing this for the past 4 years, ever since I found NuShoe. I am so pleased with the quality of the repairs that I have had with this company. My sandals are like new only I don't have to go through the wearing in process, except when I replace the cork bed. I am so happy that I found this option as I am wearing some of these sandals for 20 years now… and still going strong! Thank you!" – Carol


"Wow my wife & I just received our old Birkenstock's, they are great, good job, could not be more pleased….we got happy feet again. Will be using your company again." – Roary & Barbara O.
Take Advantage Of This Great Service!
Repair your BIRKENSTOCK sandals and save over 50% versus buying a new pair. NuShoe has resoled over 4,000,000 pairs of shoes since 1994 and we guarantee your satisfaction!