"My shoes came last night. Wow! They look great. Your guys exceeded my expectations. My shoes are like new. Thank you." – Andrew K.

Vibram™ Rubber Sole Renewal For Your Favorite Shoes and Sandals
The Traveler NuCraft is designed for all rubber-soled shoes or sandals. With the Traveler NuCraft we replace the original sole with the nearest equivalent Vibram™ rubber sole. When choosing the sole, characteristics such as sole and heel thickness and styling, density, weight, and durability are all considered. After the new sole is applied, we give the shoe a thorough cleaning and deodorization of the interior and upper. Next the upper leather is refinished and conditioned to restore the original color and luster. Finally a Kiwi wax polish tin to match your shoe color is included for polishing your NuCraft at home. Call toll-free 877-687-4631 with any questions.
The Traveler NuCraft includes the following: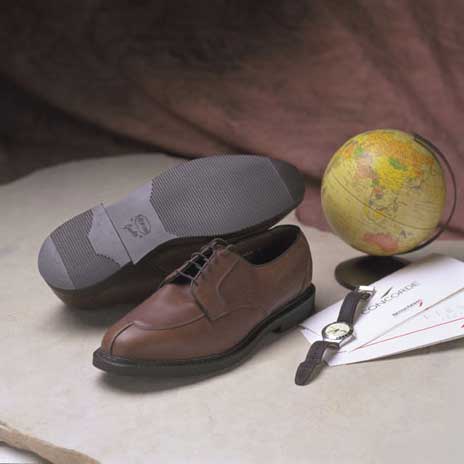 Vibram Rubber Soles and Heels
Any Miscellaneous Stitching
Refinish and Condition of Upper Leather
Shampoo of Suede and Nubuck Leathers
Deodorization
Hand Polished and Buffed
New Boot Laces
Recommended Accessories:
NOTE: You will not be charged until your shoes go into repair.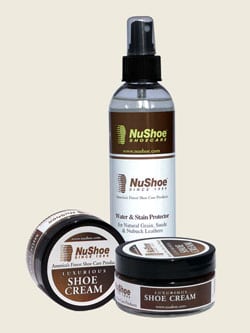 Shoe Care Accessories
We have a full range of shoe care products that will extend the life of your favorite footwear.



"Yo, just got em back, they the REAL DEAL! U got them vintage Tim's wit the soles worn, send them in and get the hot vibrams thrown on. One month off foot time and "BAM" back to foot freshness. Street Fam's. they the shiz-na-ee." – Big Mark, up here in Philly town


"I have had my favorite sandals refurbished twice now and they look brand new! These are my favorite sandals and they no longer sell this style, so this service is a life saver for me!" – Barbara R.


"Got my Clarks shoes back today and wore them around the neighborhood on a walk. Felt great and they look great. Great job and I am well pleased." – Phil M.


"Today I received my resoled Sharks. Your repair crew did a fabulous job. They look like new and feel perfect. Thank you so much for the wonderful service." – David


"All I can say is WOW! My sandals look like new! Believe these testimonials. You won't be disappointed. This repair was worn every penny. Thanks for the quality work." – Mary L.


"Got my shoes back just want to say thank you so much they look brand new. Great Job!" – Michael S.
Tell Others Why You Love NuShoe
We strive to give our customers the best shoe repair service possible so they will be driven to tell others about us. Testimonials are key to helping new customers understand what we are all about. We would be grateful if you take a moment to share your experience!
Take Advantage Of This Great Service!
Resole your rubber sole shoes and save over 50% versus buying a new pair. NuShoe has resoled over 4,000,000 pairs of shoes since 1994 and we guarantee your satisfaction!