"Fabulous job on my HS Trask boots. Look forward to years of wear. Will recommend to all my colleagues. Excellent service, excellent craftsmanship. Appreciate job well done." – Sonny B.

HS Trask Boot Renewal, Repair & Resoling
H.S. Trask offers a renewal option to extend the life of your favorite shoes and boots. We replace components with Vibram soles, insoles, and laces to rebuild your boots to "like-new" condition. Allow 3-4 weeks for return delivery.

H.S. Trask Boot Renewal options include the following: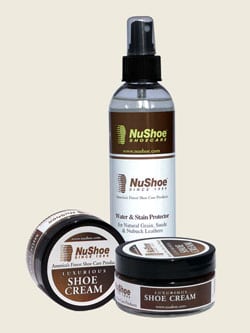 Shoe Care Accessories
We have a full range of shoe care products that will extend the life of your favorite footwear.



"I can't believe the quality of work that was done on my HS Trask Gallatin shoes. I have owned them for over 8 years and worn them at least a couple of days each week. The soles, welts, and insoles were almost gone when I sent them to NuShoe. Ms. Martinez called me and said they would need an Extended Wear Plus package, as opposed to just a resole. The shoes were returned to me in about 5 weeks looking and feeling as good as the day I first bought them. The repair was well worth the money. Hoping I can get another 8 years out of this pair." – William B.
Take Advantage Of This Great Service!
Resole your H.S. Trask boots and save over 50% versus buying a new pair. NuShoe has resoled over 4,000,000 pairs of shoes since 1994 and we guarantee your satisfaction!