"I just got my Thorogood boots back today. I'm totally impressed. I've paid much more for an inferior job from a cobbler in my city. I just looked at the sole NuShoe put on and it's a Vibram Thorogood. Wow, original equipment. I just texted my son-in-law about your company. He's a heavy duty truck mechanic who's on his feet all day. I'm a carpenter who works for a Los Angeles municipality and texted all my buds about your company also. Thanks so much for a great and affordable job." – Lyle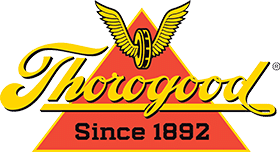 Thorogood Boots Renewal,
Boots Repairing & Resoling
An Investment In Quality
Now you can extend the life of your favorite boots through our Thorogood Boot Restoration Program. We restore most Thorogood styles including uniform, work, fire, outdoor, military, and 1892. All work is done by hand by our expert craftsmen utilizing all original Thorogood and Vibram® materials to rebuild your boots to "like new" condition. Call toll-free 866-804-1492 with any questions.
Thorogood Boot Renewal options include the following:
Shoe Care Accessories
We have a full range of shoe care products that will extend the life of your favorite footwear.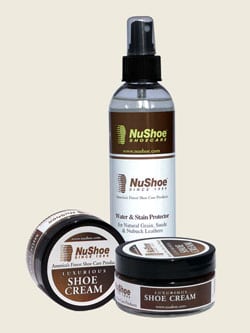 "My work boots came back like new! Old paint was all removed new original soles were replaced was worth the wait. Very satisfied would refer anyone and use again." – Joseph


"WOW! I sent you my 5 year old Thorogood boots, badly worn and never regularly cleaned. The refurbished boots that just arrived look so new that I looked carefully for a previous dog repair to prove these were mine. Thank you!" – D.H.


"My husband was thrilled upon receiving his renewed Thorogood boots. I sent you boots in very bad condition. My husband told me not to bother they were in too bad of shape. We received back from you boots that look and feel brand new. I don't think he has taken them off." – Linda D.


"Thank you for the beautiful job you did on my Thorogood boots. I love them and can now wear them for years to come. Thank you!" – Andrea C.


"Dear Jeff, I just got my boots after you resole them. I could not believe it, Wow…! I just got new pair of boots. You are goood! Thank you so much. My second pair boots will be mailed to April 1st. Thanks again." – Bulent C.


"NuShoe has once again exceeded my expectations. I recently sent 2 pairs of Ecco work boots for renewal and am very pleased with the results. Excellent value! Thank you." – Darren K.
Take Advantage Of This Great Service!
Resole your Thorogood boots and save over 50% versus buying a new pair. NuShoe has resoled over 4,000,000 pairs of shoes since 1994 and we guarantee your satisfaction!