"Great Job!!! Thanks very much for giving me my HAIX boots back in 'new' condition. If you ever need a reference on your work, use me." – Don

HAIX Boots Repair Service
Renewal & Resoling
NuShoe, Inc. is an authorized HAIX Repair Center, utilizing only original HAIX outsoles that exceed all military and NFPA requirements. We replace all components with original HAIX soles, insoles, and laces to rebuild your favorite boots to "like new" condition. Allow 4-6 weeks for return delivery.
HAIX Boot Renewal options include the following:
NOTE: Before mailing in your boots, if you see any deterioration of the midsole or toe cap, please email us a photo to info@nushoe.com so we can determine if they can be repaired or not.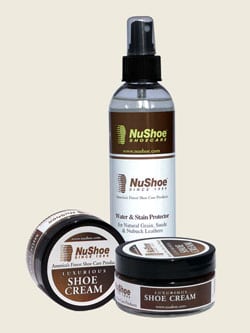 Shoe Care Accessories
We have a full range of shoe care products that will extend the life of your favorite footwear.



"Thank you for your reply and service. I will keep on passing the word around about your company and great service to all my brothers of Jacksonville Fire Department. Thank you once again." – R. P. Murphy


"Never hearing of a boot resoling company online, I was very hesitant about sending my boots. After receiving my boots back within 2 weeks, I have other fireman inquiring about this great company. I will continue to use NuShoe." – David
Take Advantage Of This Great Service!
Resole your HAIX boots and save over 50% versus buying a new pair. NuShoe has resoled over 4,000,000 pairs of shoes since 1994 and we guarantee your satisfaction!