"I just received my Chippewas back from NuShoe. The quality was superb and the tracking made me feel comfortable with sending them off. I feel like I can easily get another 10 years out of these boots now. Thanks NuShoe!" – Brian O.

Chippewa Boot Care
Renewal, Repair & Sole Repair
Now you can extend the life of your favorite boots through our Chippewa Boot Restoration Program. All work is done by hand by our expert craftsmen utilizing all original materials to rebuild your boots to "like new" condition. 
Chippewa Boot Renewal options include the following: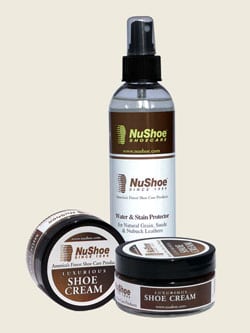 Shoe Care Accessories
We have a full range of shoe care products that will extend the life of your favorite footwear.



"Please pass on a thank you too all involved with the renewing of my Chippewa work boots, I am a wildland firefighter and travel the country in the duties of my job, and it's great to have my old boots look and feel like new again. Thank you for the quality work." – Trevor


"When I received my ten to fifteen old Chippewa boots back from you, I was astounded. They looked brand new again. Only a few nicks in the leather convinced me that they were indeed my boots. (I hadn't seen them look that way in a long, long time. After all, when I sent them to you they were worn badly at the heels, stained, and paint spattered.) Thank you for the "new" boots and for the care and professionalism you demonstrated, not only in the beautiful craftsmanship but also in the courteous service I received when I, no doubt as eager as every other customer to know when I would see my boots again, patiently and kindly reassured me that they were on schedule. Once again, thanks. Finding a company which takes such pride in its work is indeed a pleasure." – Mark A.


"Just got my Chippewa engineer boots back from you guys to get new double think Vibram soles put on them. They look great. Exactly what I was looking for. The whole process went like clockwork (so refreshing to have a company pull off what they say they are going to do with no stupid glitches) and at a fair price. Bravo Nushoe. Keep up the good work. I will tell all my biker and hunting friends about you." – Michael G.


"Just received the 2nd pair of Chippewa boots I had Complete Restoration done. Again, I can't thank you enough on a GREAT job! I hope you never stop, and keep America working!" – Diana


"Just got my Chippewa Trooper boots back. WOW…they look like new. The leather looks great. Cant wait to wear them. Thanks for the great service, my boots were only gone for two weeks, not bad for Florida to California and back. Have other boots that you will be getting for repair. Awesome work and quick service!!!!" – Jerry
Take Advantage Of This Great Service!
Resole your Chippewa boots and save over 50% versus buying a new pair. NuShoe has resoled over 4,000,000 pairs of shoes since 1994 and we guarantee your satisfaction!