"To whoever fixed my boots: You guys did an incredible job. Thank you! I'm extremely happy with the result. I'll definitely be sending these back when I wear them out again. Thanks again!" – Wes

Indian Motorcycle Boots Renewal, Repair & Resoling
NNow you can extend the life of your favorite boots through our Indian Boot Restoration Program. All work is done by hand by our expert craftsmen utilizing all original materials to rebuild your boots to "like new" condition. Call toll-free 877-687-4631 with any questions.
Indian Motorcycle Boot Renewal options include the following: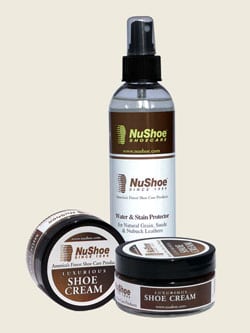 Shoe Care Accessories
We have a full range of shoe care products that will extend the life of your favorite footwear.



"This was my first experience ever having footwear resoled. I sent my boots in for a complete restoration late August and received them about 3 weeks later. If that seems like a long time, trust me: it's worth the wait." – Travis


"To the person/people who cared for my boots: Thank You. I appreciate your hard work, and would love to shake your hand(s). I will absolutely be coming to NuShoe for any kind of footwear repair again. Thank you!" – Corey


"To everyone, thank you so much for arranging to have my boots back to me, 2 days ahead of schedule I discussed with Olga. It is so appreciated. The craftsmanship is incredible. I'm really in awe. Thanks again!" – Anton


"I just wanted to write and tell you how incredibly pleased I am with your work. My Indian Motorcycle boots look and feel amazing. Honestly, I feel like I got a brand new pair of boots. Your work is incredible and I will definitely recommend you to friends. Thank you again for restoring my favorite pair of boots back to pristine condition and in less than 3 weeks!" – Elizabeth Q.


"I just received my boots from you today. They look like new and feel like new. Please tell your people they did a great job!!! Thanks again for a great job." – Mark E.
Take Advantage Of This Great Service!
Resole your Indian Motorcycle boots and save over 50% versus buying a new pair. NuShoe has resoled over 4,000,000 pairs of shoes since 1994 and we guarantee your satisfaction!