"HIGHLY RECOMMEND. They did an awesome job on my motorcycle boots. They even polished them (better than i could do). I will definitely be a repeat customer and would recommend Nushoe to anyone." – Jeremy

Motorcycle Boot Repair, Renewal, & Resoling
The Motorcycle Boots NuCraft is made for rubber-soled motorcycle boots. The Motorcycle Boots NuCraft includes replacement Vibram™ rubber soles and heels, any custom stitching, and a thorough cleaning and deodorization of the interior and upper of the boot. As with all of NuShoe packages, the upper leather is refinished and conditioned to restore the original color and luster. Call toll-free 877-687-4631 with any questions.
Motorcycle Boot Renewal options include the following: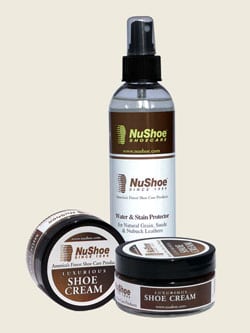 Shoe Care Accessories
We have a full range of shoe care products that will extend the life of your favorite footwear.


"To everyone, thank you so much for arranging to have my boots back to me, 2 days ahead of schedule I discussed with Olga. It is so appreciated. The craftsmanship is incredible. I'm really in awe. Thanks again!" – Anton


"Got my motorcycle boots back just want to say thank you so much they look brand new. Great Job!" – Michael S.


"Hello. Just wanted to send a note as to how happy I am with the work that was done on my boots. I am so happy I came upon your web site. Thank you for your workmanship and great customer service too." – Jake P.
Tell Others Why You Love NuShoe
We strive to give our customers the best shoe repair service possible so they will be driven to tell others about us. Testimonials are key to helping new customers understand what we are all about. We would be grateful if you take a moment to share your experience!
Take Advantage Of This Great Service!
Resole your motorcycle boots and save over 50% versus buying a new pair. NuShoe has resoled over 4,000,000 pairs of shoes since 1994 and we guarantee your satisfaction!