"Thank you for the EXCELLENT job you have done on my shoes! A gentleman here in Georgia said that it could not be done. He should have said that he could not do it." – David B.

Mens Shoe Repair
Leather Shoe Renewal and Resole Service
The Chairman NuCraft is the crème de la crème in handcrafted shoe renewal, and is offered on men's leather soled shoes only. The Chairman NuCraft includes full super-prime leather soles hand chosen to match the original thickness, leather heel bases, Vibram rubber heel toplifts, new leather heel liners, and any stitching needed to bring the shoe to like-new condition. After rebuilding the shoe, the upper leather is refinished and conditioned to restore the original color and luster. As accessories we add aromatic cedar shoetrees, new shoe laces, a replaceable deerskin sock liner, flannel travel shoe bag, and finally a Kiwi wax polish tin in your shoe color for polishing your NuCraft at home. All mens shoe repair & shoe renewal work is handcrafted by our expert shoemakers and carries a 100% guarantee of customer satisfaction! Call toll-free 877-687-4631 with any questions.
The Chairman NuCraft includes the following: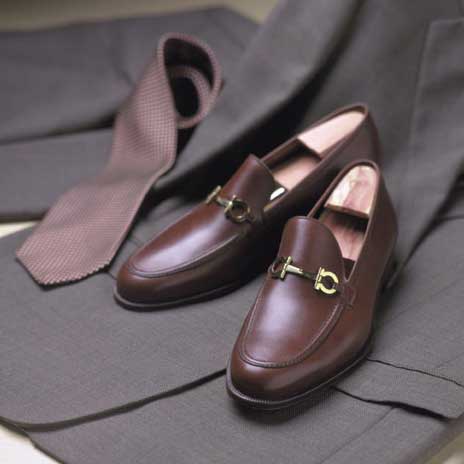 Super-prime Full Leather Soles
360˚ Welt (as needed on shoes with welt construction)
New Leather Heel Base
Refinish and Condition of Upper Leather
Hand Polished and Buffed
Any Custom Fitting Including:
Replace Heel Liner
Rebind Heel Counter
Replace Missing Tassels or Ornaments
Included Accessories:
New shoe laces
Cedar Shoe Trees (

$25 value

)
Flannel travel shoe bag
Shoe polish
NOTE: You will not be charged until your shoes go into repair.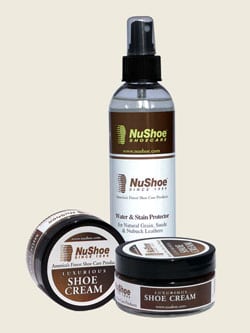 Shoe Care Accessories
We have a full range of shoe care products that will extend the life of your favorite footwear.



"I received the package yesterday, 20 July, nicely packaged and a superb craftsmanlike job of resoling. Thank you." – K.


"Received shoes the 24 Aug. 2016. I don't believe they are the same ones I sent you. I'm sending you another pair. Thank You for an excellent job!" – William C.


"My shoes came in yesterday. This was the first time i used this service, and i have to say i am overwhelmed. They are like new. Over the years I have been fortunate to have many mephistos, so i can assure you that you will be receiving them as they need repairs, thank you for this service." – David B.


"My shoes came last night. Wow! They look great. Your guys exceeded my expectations. My shoes are like new. Thank you." – Andrew K.


"My shoes look and feel incredible. Thank you." – Harry


"Got my shoes back yesterday. My compliments on the great job. The shoes look like new and I am so glad to get them back. My feet were missing them." – Peter R.


"Unheard of service!! My shoes are like new again!! Thanks so much!!" – Joseph D.


"I received my shoes today. What a miracle!! I never expected these shoes to be repaired and you did it! You are all masters at your profession. Thank you." – Elli W.
Tell Others Why You Love NuShoe
We strive to give our customers the best shoe repair service possible so they will be driven to tell others about us. Testimonials are key to helping new customers understand what we are all about. We would be grateful if you take a moment to share your experience!
Take Advantage Of This Great Service!
Resole your leather soled shoes and save over 50% versus buying a new pair. NuShoe has resoled over 4,000,000 pairs of shoes since 1994 and we guarantee your satisfaction!