"This was my first experience ever having footwear resoled. I sent my shoes in for an Executive NuCraft late August and received them about 3 weeks later. If that seems like a long time, trust me: it's worth the wait!" – Charles P.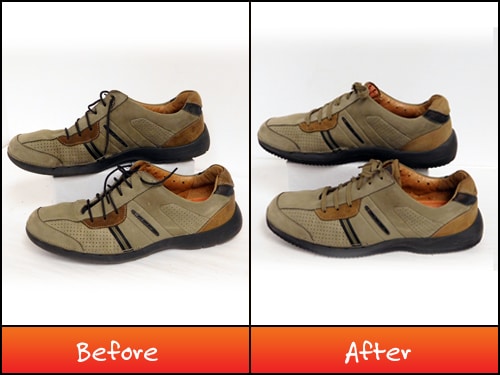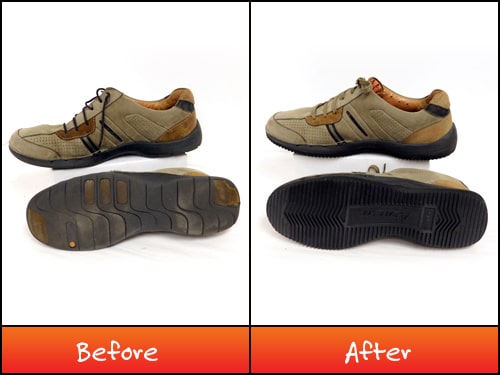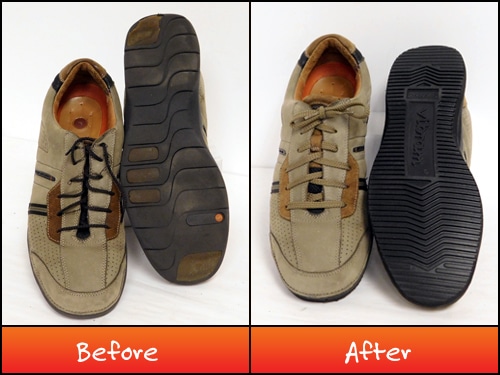 Shoe Repair for your Clarks Shoes!
Since 1994 we have specialized in renewing Clarks Shoes with materials that are as good if not better than the original materials. As described in the Wall Street Journal, we are the world's largest shoe repair and renewal company. Call us at 877-867-4631 to place your order or online below.
Turn around is 3-4 weeks including shipping time. Your credit card isn't charged until we receive your shoes.
NuShoe recommends the following resoling options for your Clarks shoes:
Traveler NuCraft
$85
The Traveler is designed to renew any rubber-soled shoes or sandals, including Timberland, Rockport, Birkenstock, and other popular comfort brands. With the Traveler NuCraft we replace the original sole with the nearest equivalent Vibram™ rubber sole. When choosing the sole, characteristics such as sole and heel thickness and styling, density, weight, and durability are all considered.
Vibram Rubber Soles and Heels

Any Miscellaneous Stitching

Refinish and Condition of Upper Leather

Shampoo of Suede and Nubuck Leathers

Deodorization

Hand Polished and Buffed

New shoe laces
Recommended Accessories
NOTE: You will not be charged until your shoes go into repair.

"I have received the shoes and they look fantastic! You did a spectacular job on the shoes which I didn't think were salvageable. Many thanks for the expert work and the enclosure of the mailer for a future repair. When appropriate, I will use the mailer for another repair." – Martha S.

"Not every day that you can rely on internet service. My first experience with NuShoe was just as they advertise an the quality of their work could not be any more precise. Thanks for restoring my Finn Comfort shoes to look absolutely brand new." – Joe P.

"Thank you very much for your e-mail advising me that my shoes will soon be shipped. I appreciate your attention in keeping me informed and I look forward to wearing my refurbished shoes – thank you again." – Nathan O.

"Thank for your incredible service. Your craftsman recently repaired my lightly used, but sole cracked Finn Comfort boots. I praise their abilities and I'm thrilled to find service of this quality, this day and age! My local shoe repair shop said the boots could not be repaired and I was about to throw them out when I decided to check on-line. Thankfully I found the NuShoe site. Please thank those who did the work, and I will highly recommend your service to friends and family!" – Dave T.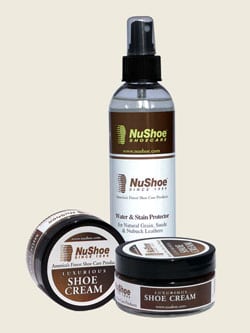 Shoe Care Accessories
We have a full range of shoe care products that will extend the life of your favorite footwear.


Thank you for the EXCELLENT job you have done on my shoe! A gentleman here in Georgia said that it could not be done. He should have said that he could not do it.
David B.


You all did such a wonderful job with my last order, EXCELLENT JOB I may add, so I've decided to start sending more shoes to you, one pair at a time.
Dave M.


I sent in a pair of Wolverine Big Horn boots to be resoled as they are no longer available in black. NuShoe did a wonderful job repairing and refurbishing them. Just like new. Thanks again, NuShoe!
Mike S.
Take Advantage Of This Great Service!
Resole your favorite shoes, boots, sandals or high heels and save over 50% versus buying a new pair. NuShoe has resoled over 4,000,000 pairs of shoes since 1994 and we guarantee your satisfaction!