Birkenstocks are more than just a pair of shoes; they're a cherished investment. Known for their comfort and quality, these iconic sandals have become a wardrobe staple for shoe enthusiasts worldwide. However, like any well-loved item, they can wear down over time, and that's where the importance of recorking comes in. Recorking your Birkenstocks not only extends their lifespan but also keeps them looking and feeling as good as new. So, let's dive into the world of Birkenstock recorking and discover how you can revive your soles.
Birkenstocks, often affectionately known as Birks, are renowned for their molded footbeds and simple, yet stylish designs. These features, combined with the brand's commitment to using high-quality materials, have helped Birkenstocks stand the test of time. However, even the most durable of sandals are not immune to the effects of regular wear and tear. Over time, the soles can wear down, and the cork footbed, one of the key components that make Birkenstocks so comfortable, may start to deteriorate. This is where recorking comes into play.
Recorking involves replacing the worn-out cork on your Birkenstocks, essentially giving them a new lease on life. By choosing to recork your Birkenstocks, you're not only avoiding the cost of a brand new pair but also taking a more sustainable approach to your footwear. After all, why toss out a perfectly good pair of sandals when a simple repair can restore them to their former glory?
In the following sections, we'll delve into the Birkenstock repair process, explore the cost-benefit analysis of recorking versus buying a new pair, and share customer reviews and testimonies on the topic. We'll also guide you on how to get your Birkenstocks recorked and introduce you to NuShoe, a trusted partner in Birkenstock repair. Finally, we'll provide some helpful tips on caring for your Birkenstocks post-repair.
So, if you're a Birkenstock enthusiast, stick around. This is your ultimate guide to getting your Birkenstocks recorked and embracing a more sustainable approach to your footwear choices. Let's revive those soles together!
Understanding the Birkenstock Repair Process
Just like a vintage car or a cherished piece of furniture, your Birkenstocks deserve a dose of tender loving care. With the right maintenance and repair, these classic sandals can last for years, if not decades. Let's dive into the fascinating world of Birkenstock repair and learn how to breathe new life into your beloved Birks.
The Common Birkenstock Repairs: Sole Replacement, Cork Repair, and More
The life of your Birkenstocks is largely dependent on how well you care for them and how hard you are on your shoes in general. Regular wear and tear can take a toll on the sandals, leading to worn-out soles, damaged cork footbeds, or frayed straps. But fret not! These are all common issues that can be addressed through the Birkenstock repair process.
The most common Birkenstock repairs include sole replacement and cork repair. If you notice that your sandals' heels and tips are wearing out fast, replacement heel and toe tabs can come to the rescue. These should ideally be replaced before the cork footbed deteriorates. For those who are particularly hard on their heels, durable heel tabs are available.
If the soles of your Birkenstocks are evenly worn, it's time to replace them completely. And, if the exposed cork footbed starts showing signs of wear due to regular use, a cork repair involving rebuilding and grinding the heat-moulded cork to the original shape of the footbed can help.
The Cost of Birkenstock Repairs: An Overview
While repairing your Birkenstocks does come at a cost, it's often a more cost-effective choice compared to buying a new pair. Looking at the repair rates, a footbed replacement, whether hard or soft bed, can cost around $120. If you need to resole and reseal the cork, you're looking at $70. And, if it's just the cork that needs a refurbishment, it will cost you about $40.
These costs give you a ballpark figure for your Birkenstock repair needs. However, the exact cost can vary depending on the extent of the damage and the specific repair service you choose.
By understanding the Birkenstock repair process, you can make an informed decision on whether to repair or replace your favourite pair. The next section will delve deeper into this cost-benefit analysis, helping you to make the best choice for your Birkenstocks, your wallet, and the planet.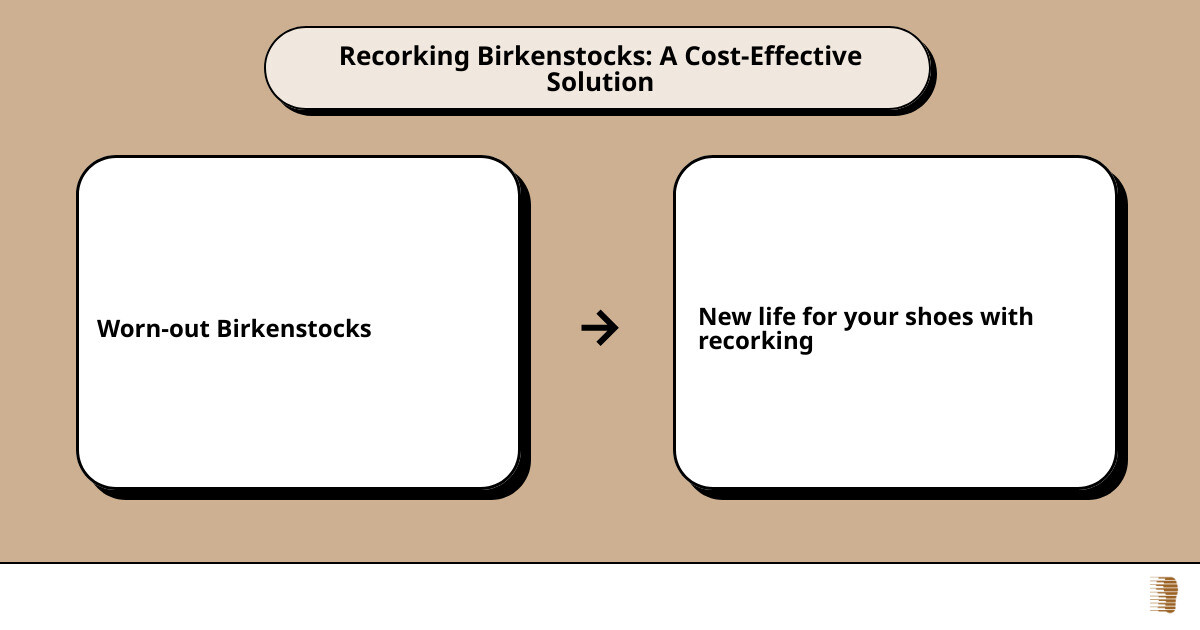 Is it Worth it to Recork Birkenstocks?
When it comes to caring for your Birkenstocks, you might find yourself asking, "Is it worth it to recork my Birks?" The answer lies in exploring the cost-benefit analysis of repair vs. buying a new pair, and understanding the experiences of others who have chosen the repair route.
The Cost-Benefit Analysis: Repair vs. Buying a New Pair
One of the main factors to consider when deciding between repair and replacement of your Birkenstocks is cost. The cost to replace the cork on Birkenstocks can range from $40 for cork refurbishment, $70 for a resole and cork reseal, to $120 for a complete footbed replacement. In comparison, a new pair of Birkenstocks can cost significantly more.
By choosing to have your Birkenstocks repaired, you're not only saving money but also extending the life of your favourite sandals. Plus, you're contributing to a more sustainable lifestyle by reducing waste. Repairing over replacing is a win-win situation for your wallet and the environment.
Real-Life Experiences: Customer Reviews and Testimonies
The cost-benefit analysis provides a logical perspective, but what about the experiences of those who have had their Birkenstocks recorked? It's important to note that Birkenstock does not offer a specific warranty or guarantee of longevity. Some people keep their Birkenstocks for 10 years, while others may only get one summer out of them. The lifespan of your Birkenstock footwear is determined by how well you treat them, and how hard you are on your shoes in general.
However, customer reviews and testimonies highlight the value and satisfaction derived from having their Birkenstocks repaired. Many customers have found that the repairs not only extend the life of their sandals but also restore them to a near-new condition.
In conclusion, whether you're considering it from a cost-benefit perspective or based on the experiences of others, recorking your Birkenstocks is a worthwhile investment. This not only saves you money but also allows you to continue enjoying your favorite pair of sandals. So, before you decide to toss out your worn-out pair, consider giving them a new lease on life through recorking.
How to Get Your Birkenstocks Recorked
Birkenstocks are known for their durability and comfort, but like any cherished pair of footwear, they can wear out over time. However, there is no need to bid farewell to your favorite pair just yet. With the right repair service, you can get your Birkenstocks recorked, giving them a whole new lease on life. This section will guide you through finding the right repair service and the process of sending your Birkenstocks for repair.
Finding a Repair Service: Options and Considerations
When it comes to finding a repair service for your Birkenstocks, there are a few key considerations to keep in mind. First and foremost, ensure that the cobbler uses original parts. This guarantees that the quality and comfort of your Birkenstocks are preserved. As mentioned in the sources, companies like Michelangelo's Repair My Birkenstocks and Custom Made Birkenstocks are recognized for their superior service, expert fitting, and use of genuine Birkenstock parts.
It's also important to consider the cost of the repair service. While recorking your Birkenstocks is generally less expensive than buying a new pair, prices can vary depending on the extent of the repair and the specific service provider. Therefore, it's worth doing some research to find a repair service that offers good value for money. Keep in mind, some services offer free shipping on repairs over a certain amount, which can further reduce the overall cost.
The Process: How to Send Your Birkenstocks for Repair
Once you've identified a reputable repair service, the next step is to send your Birkenstocks for repair. The process is usually straightforward. Start by placing your order for the repair service online. In most cases, you'll need to specify the type of repair needed, such as a sole replacement, cork repair, or hard heel tab.
After placing your order, you'll need to send your Birkenstocks to the repair service. Some services provide a prepaid shipping label, making this process easy and convenient. Once the repair service receives your Birkenstocks, they will assess them and perform the necessary repairs.
Throughout the repair process, you might receive updates on the progress of your repair. Once the repairs are complete, your rejuvenated Birkenstocks will be shipped back to you, ready to be worn and enjoyed once more.
In the end, getting your Birkenstocks recorked is not just about extending the lifespan of your favorite sandals—it's also about embracing sustainability. By choosing to repair instead of replace, you're contributing to a more sustainable fashion industry. So go ahead, give your Birkenstocks the love they deserve, and enjoy the comfort and style of your revived pair for years to come.
NuShoe: Your Trusted Partner in Birkenstock Repair
When it comes to restoring the glory of your Birkenstock sandals, not all shoe repair services are created equal. You need a partner who understands the intricacies of Birkenstock craftsmanship and can restore your beloved pair to a near-new condition. Enter NuShoe, the leading authority in handcrafted shoe renewal.
NuShoe's Expertise in Handcrafted Shoe Renewal
Drawing from over two decades' experience in the shoe repair industry, NuShoe has mastered the art of handcrafted shoe renewal. Their expert craftsmen have repaired more than 5,000,000 pairs of shoes since 1994, showcasing their commitment to quality and customer satisfaction.
NuShoe's repair services aren't just about fixing a worn-out sole or a broken buckle; they're about reviving the integrity of your Birkenstocks, restoring their comfort, functionality, and style.
NuShoe's Repair Options: Classic Reconstruction and Classic Restoration with New Cork Footbed
NuShoe offers two key Birkenstock repair options: Classic Reconstruction and Classic Restoration with New Cork Footbed. Both services are meticulously designed to restore your Birkenstocks to their original aesthetic and comfort level.
Classic Reconstruction ($65 plus shipping & handling) involves replacing the sole using original Birkenstock material, reconditioning worn cork in the heel and toe, replacing missing buckles, cleaning and conditioning the upper leather, and deodorizing your sandals.
If your cork footbed is worn or damaged, NuShoe recommends the Classic Restoration with New Cork Footbed ($110 plus shipping & handling). This service includes all the benefits of Classic Reconstruction plus the replacement of the worn or damaged cork footbed.
The NuShoe Guarantee: Over 5 Million Pairs Repaired and Counting
With NuShoe, you're not just investing in shoe repair; you're investing in a service that guarantees 100% customer satisfaction. They are an authorized Birkenstock Repair Center, using only original Birkenstock materials in their repairs.
NuShoe has resoled over 4,000,000 pairs of shoes since 1994, backing their promise of quality and customer satisfaction with a proven track record. You can trust NuShoe to transform your worn-out Birkenstocks into a restored pair that feels as good as new.
Remember, with NuShoe, your treasured Birkenstocks are in skilled hands. They're not just repairing your shoes—they're renewing your footsteps.
Caring for Your Birkenstocks Post-Repair
After investing in the revival of your beloved Birkenstocks, the next crucial step is to ensure that you take good care of them so they can continue to serve you for more years to come. With proper maintenance, your Birkenstocks can deliver not just comfort, but also a sense of style that stands the test of time.
Maintenance Tips to Extend the Life of Your Birkenstocks
Maintaining your Birkenstocks post-repair doesn't have to be a daunting task. In fact, it can be as simple as regular cleaning and proper storage.
For cleaning, use a damp cloth to gently wipe off any dirt or grime from the surface of your sandals. For the footbed, you can use a mild soap diluted in water and a soft brush to gently scrub away any dirt. Rinse with clean water and let them air dry away from direct heat or sunlight, which can cause the cork to dry out and crack.
When it comes to storage, keep your Birkenstocks in a cool, dry place away from direct sunlight. If you won't be wearing them for a while, consider stuffing them with newspaper to help maintain their shape.
Moreover, Birkenstocks offer a range of care products specially designed for their shoes, such as cork sealers to keep the cork from drying out and water and stain repellents for the uppers.
The Importance of Regular Care and Maintenance
Remember, your Birkenstocks are more than just a pair of shoes—they're an investment in foot comfort and health. Regular care and maintenance can significantly extend their lifespan, allowing you to enjoy their unmatched comfort for many years to come.
Plus, taking good care of your Birkenstocks is not just beneficial for your shoes, it's also beneficial for the environment. By extending the life of your Birkenstocks, you're reducing waste and promoting sustainability—one step at a time.
In conclusion, caring for your Birkenstocks post-repair is as important as the repair process itself. By following these simple maintenance tips, you can keep your Birkenstocks looking great and feeling comfortable, all while making a positive impact on the planet.
Conclusion: Revive Your Soles and Embrace Sustainability with Birkenstock Recorking
A wise shoe lover once said, "A shoe is like a best friend; it takes you places, shares your adventures, and never leaves your side." And just as we don't easily give up on our best friends, we shouldn't give up on our favorite footwear either. Instead of discarding your worn-out Birkenstocks, consider breathing new life into them with a quality recorking service.
When your beloved Birkenstocks start showing signs of wear and tear, it's not a signal to toss them aside. Instead, it's an opportunity to restore them to their former glory and extend their lifespan. And who better to entrust your Birkenstocks to than NuShoe, the leading expert in shoe renewal? With their Classic Reconstruction and Classic Restoration with New Cork Footbed options, your Birkenstocks will be renewed using original Birkenstock materials, ensuring they are as comfortable and durable as new.
By choosing to repair instead of replace, you're not just saving money—you're making an environmentally conscious decision. Every pair of shoes that's repaired instead of replaced means less waste in our landfills and less strain on our planet's resources. And in today's world, where sustainability is more important than ever, every little bit counts.
Customer testimonies attest to the quality of NuShoe's service. With rave reviews detailing the transformation from worn-out Birkenstocks to 'like new' condition, there's no doubt about the value and benefit of choosing to recork. As one happy customer, Skadi B., puts it, "I got back in the mail was a brand new pair of Birks!"
But it doesn't end there. Once your Birkenstocks are revived, it's up to you to keep them in tip-top shape with regular care and maintenance. This includes cleaning, conditioning, and occasional resealing of the cork footbed. By taking these steps, you can ensure your Birkenstocks remain your reliable walking buddies for years to come.
In sum, getting your Birkenstocks recorked is more than just a repair service. It's a testament to your commitment to quality, comfort, and sustainability. It's about giving your favorite shoes a second chance while also making a positive impact on our planet. So go ahead, revive your soles, and embrace sustainability with Birkenstock recorking. Remember, every step you take in your renewed Birkenstocks is a step towards a more sustainable future.